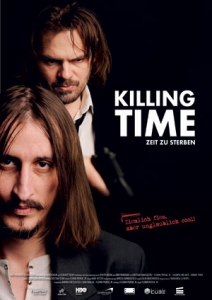 Cinema Release: 20 February 2014
DVD Release: 25 July 2014

What happens when contract killers have to wait for too long?
Two hit men break into their next victim's apartment to wait for its arrival.
Biding their time, seconds soon turn to minutes, minutes to hours. Unable to agree on anything, little by little our protagonists start losing their patience and their temper. Who is the best superhero of all time, Batman or Spiderman? Are experience and professionalism better tools of the trade than ruthlessness and pink socks? Would you rather start a family or spend your time at crazy orgies?
Killing Time can be a deadly affair…