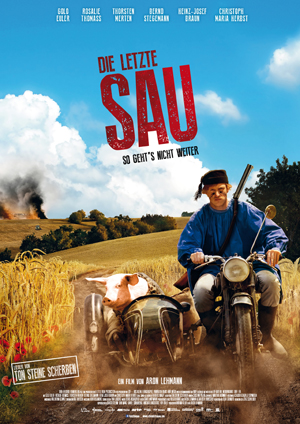 Theatrical Release: 29 September 2016
DVD Release: 9 June 2017
These are truly dark times for pig farmer Huber. His little farm is broke and no more able to compete with agricultural plants. To top it all, Huber's farm gets wrecked by a meteorite and he loses everything – except for one last sow.
Together with his sow, Huber leaves the ruin, which once was his farm and starts a life as a homeless, vagrant and Indian. And Huber acquires a liking for this life. Now, he is a rebel, who meets people on his journey, who experience similar things. Little ones who have been ruined by big ones. For those little ones, Huber stands up in resistance and becomes a symbol for upheaval and freedom. Huber does whatever he thinks is right. Since in a world in which a healthy, hardworking and honest man is no more able to fend for himself, something is truly not right! His message is: It cannot go on like this!
And he is totally right!